NEW: PERFORMANCE MAT #everydaywarrior
Become an #everydayWarrior!
If it doesn't challenge you, it doesn't change you!

Your body is stronger than you think – it's just your mind you have to convince! Change your mind. Change your body. You can reach almost everything if you believe in yourself!

Become an #everydaywarrior! Together we will rock every challenging moment and situation no matter what and you will realise how easy life can be with the right look at it! Motivation is what gets you started. Habit is what keeps you going!

Let's go through this together - let's create the best version of ourselves!
Hey Team #everydaywarrior,
many of you requested for downloading the monthly schedule as a PDF. So here you go!
Enjoy our workout schedule – feel free to rest some more whenever your body needs to.
Our "better members" are welcome to incorporate the workouts marked in green into your plan.
xx
Yours KayKay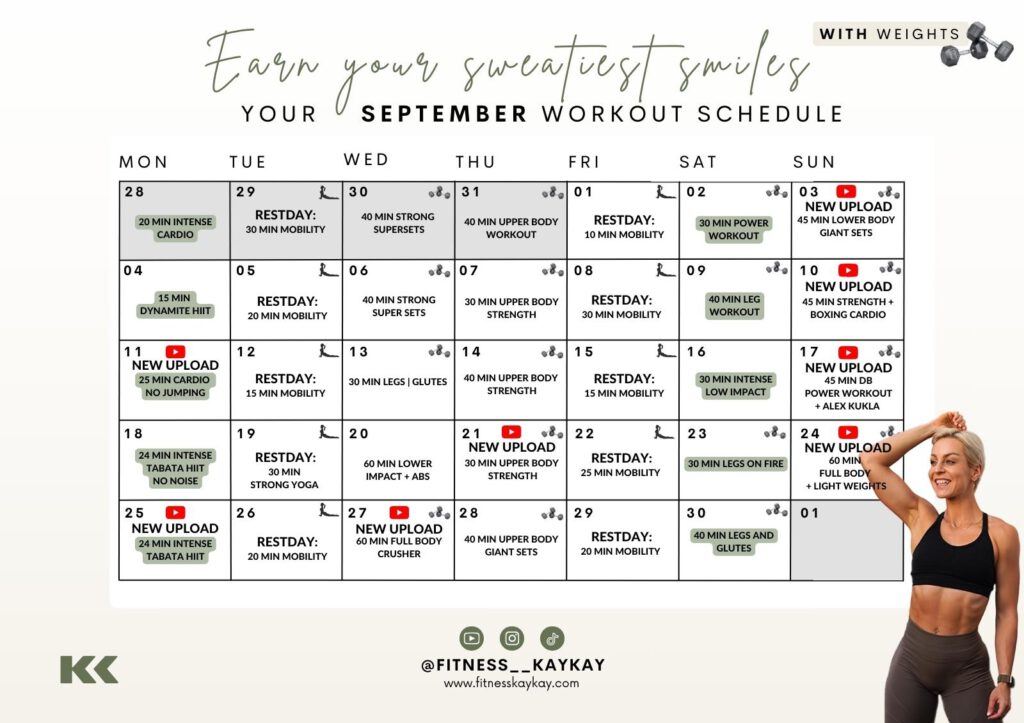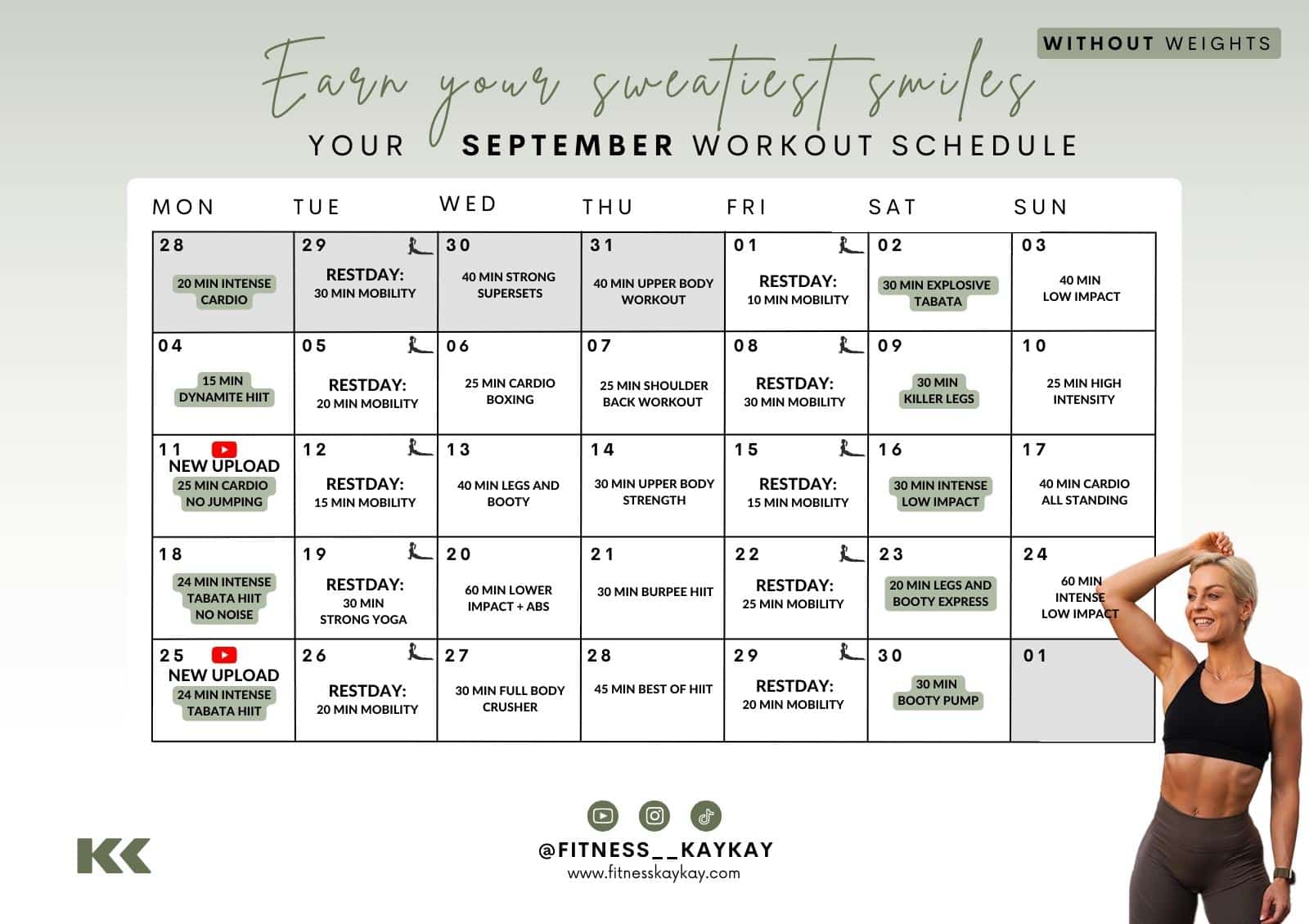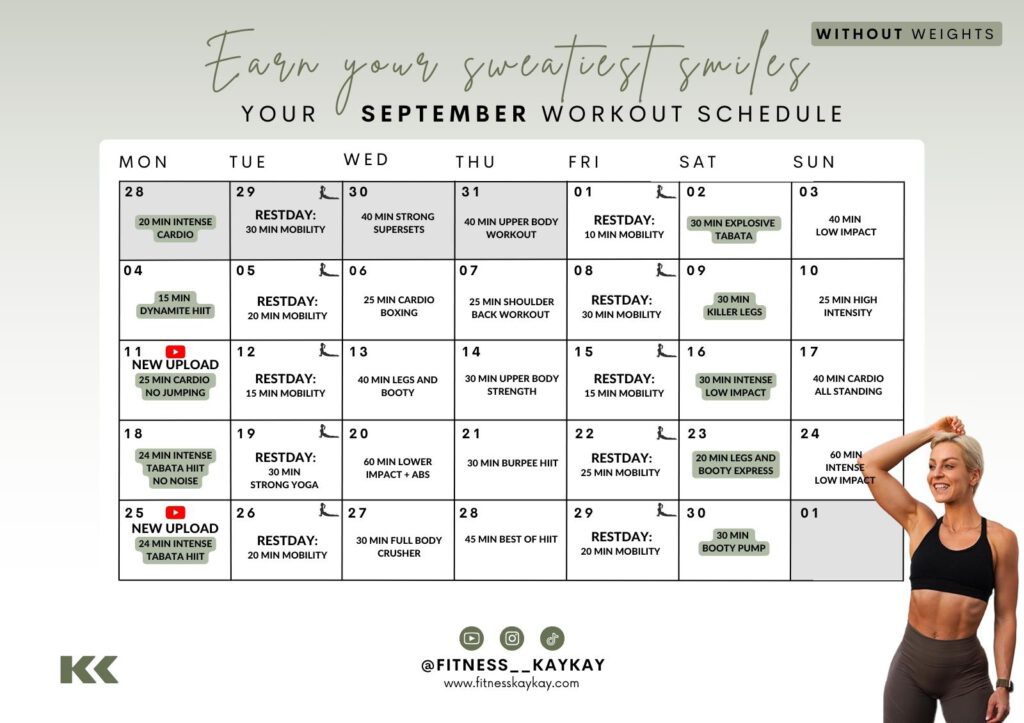 Train with me, in the gym and at home!
We are starting with a >> HYBRID DUMBBELL ONLY << Guide!
What you can expect from my guide:
HANDMADE WITH LOVE
6 WEEK PROGRESSIVE TRAINING
3-6 WORKOUTS PER WEEK
ALSO FOR BUSY PEOPLE
STRENGTH AND METCON
MY TOP MINDSET AND NUTRITION ADVICES
CAN BE COMBINED WITH MY YOUTUBE BODYWEIGHT WORKOUTS⠀⠀⠀⠀⠀⠀⠀⠀⠀
Every exercise will be shown in videos and pictures for you.
Who is excited to combine quick home workout sessions (my YouTube channel) with some gym equipment or even at home when you have a little home gym?
⠀⠀⠀⠀⠀⠀⠀⠀⠀⠀⠀
Prepare to become an #everydaywarrior!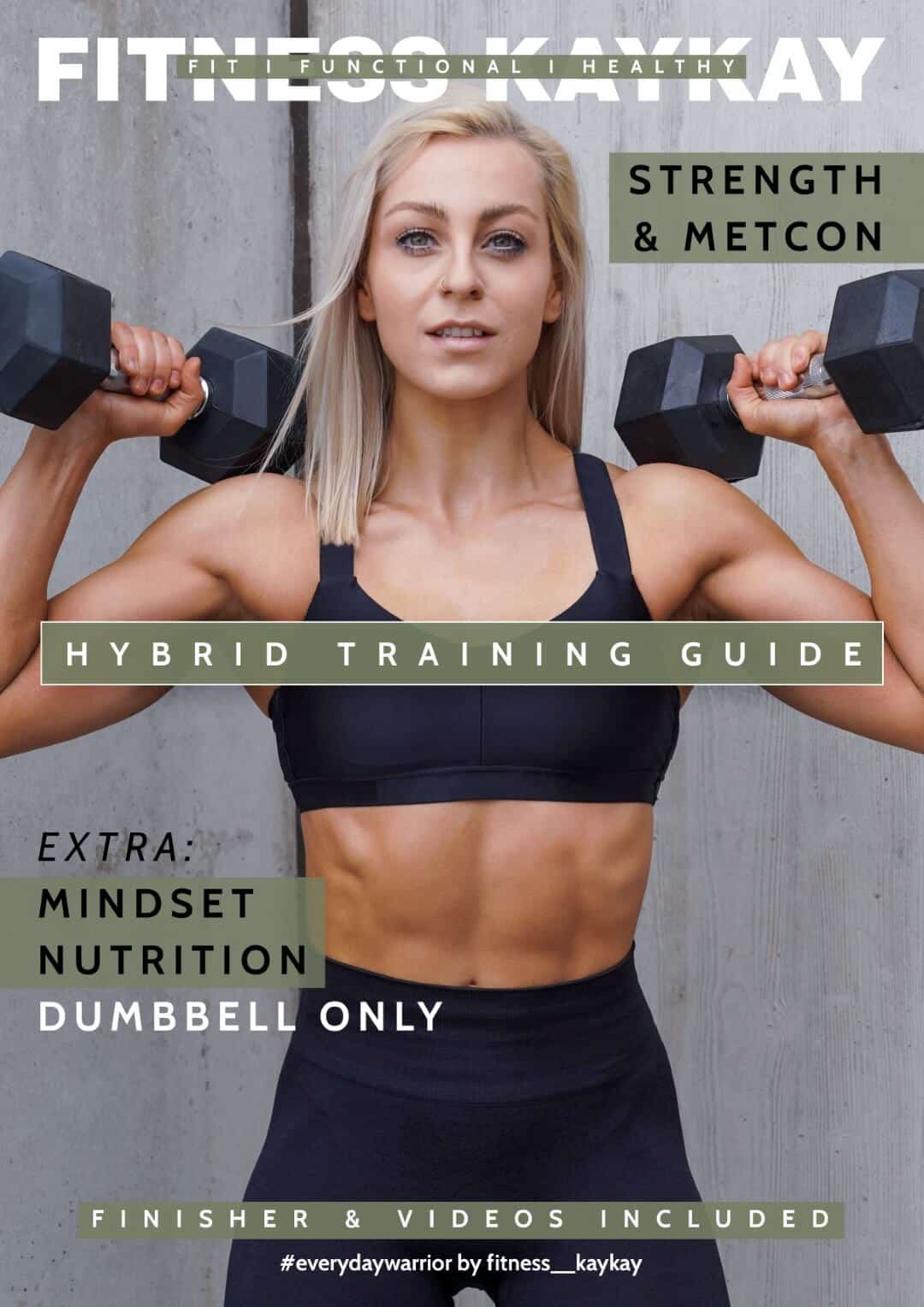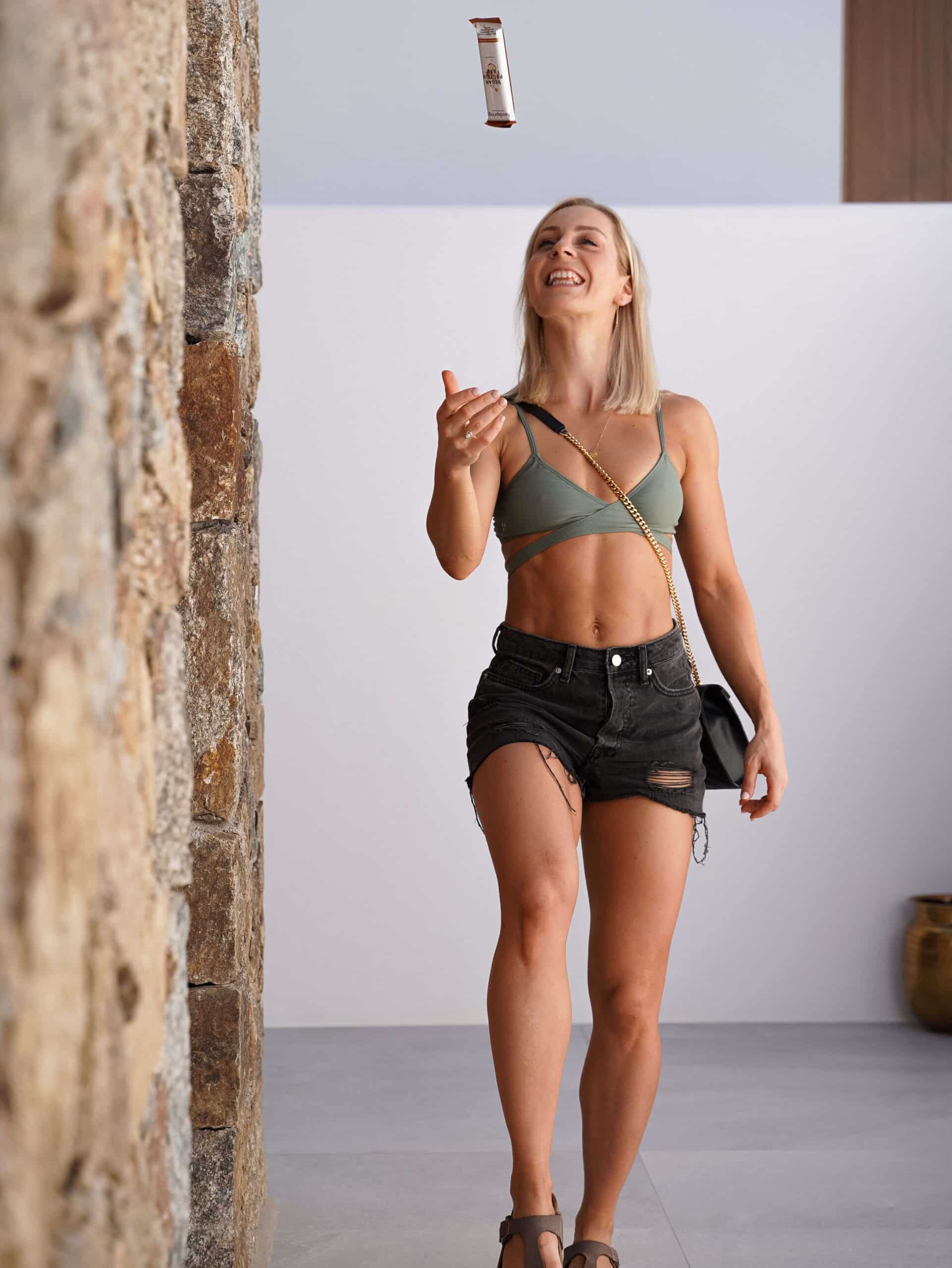 My name is Kathrin and I am on a mission.
My biggest passion in life is to motivate and inspire other people to do something they thought they would have never been able to. Typical sayings like "of course you can do that because you have been doing it since you were little" dont't really help the situation. We all have to start at one point. When is your day 1?
Back to where it all began for me: in my childhood I was doing gymnastics, after a while I also fell in love with dancing and added it to my gymnastics lessons. When I was 18 I felt like I was ready for something new – that's when I started to go to the gym. My goal was is to work on my weaknesses and to enhance my strengths – both mentally as well as physically.
That basically was the beginning of my life long journey of "functional fitness". Sports and athletics always played and are still playing a big part in my daily life. It helps me to let go, to feel myself and to develop further as a person. Day in and day out I'm challenging myself and love to take you with me on this with all the ups and downs that comes with it.
Let's start social media…
Our Online Coaching -
Better by Kaykay and Dom
Are you interested in our coaching app to finally reach your goal?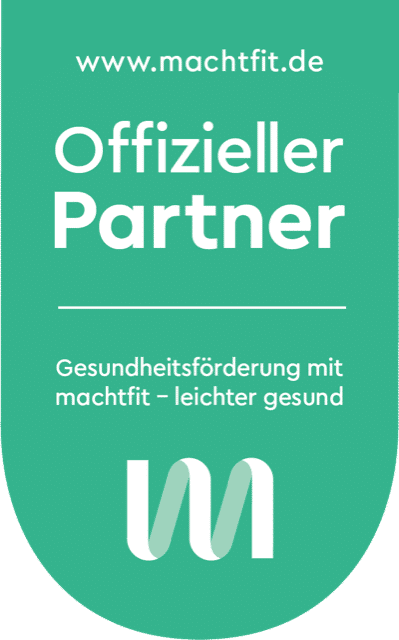 Anne
"I love your workouts! They gave me a whole new feeling for my body and new fun in sports. Thank you !"
Jess
"Hey just letting you know that I did your dumbbell workout today. As I actually don't have any dumbbells at home I simply took my med ball and adjusted a few things here and there. My bf even noticed my progress and gave me compliments about it!"
Sophia
"Hey just wanted to let you know that your 45min HIIT athlete workout is soooo amazing. I love that you are spicing it up so much – there are so many excercises I usually wouldn't do or even think of. It's incredible – thank you!"
Maria
"My heart is racing, I'm sweating from head to toe and I just feel exhausted and happy. That can only mean, it was a workout from the best KayKay. Really great again! Had to take an additional 20 seconds rest once, but otherwise kept up with you. The finisher was the icing on the cake. 100% great. Just give it a try! You often achieve more than you think you are capable of while just watching! (That's why I never take a look at the WO before. Because, unfortunately, I also tend to think: "Oh, God, I'll never make it" and lose my motivation). Simply start and get through it FIRE ! "
Simone
"You are fire girl! Simply wanted to say thank you for all the content you are providing. This is so much work and not taken for granted! We really appreciate it! Keep it up and stay healthy honey!"
Danica
"Too bad that it's my rest day! I'm already pumped and ready to go when I'm seeing this! I recently came across your profile as I was looking for real alternatives to the HIIT and tabata classes in the gym. Something that brings the vibes into my living room. You are such an inspiration – strong, powerful, motivated, dedicated and committed. That's what I can relate to and I'm really thankful that I found your channel! Thanks so much for all your workouts and keep it up! #everydaywarrior "
Ajina
"OMG I'm so happy that I recently came across your channel and all your workout videos. Can't believe that there even is a KB workout. I'll do it tomorrow – first thing in the morning! "
Lisa
"There is one thing that is so real about all your workouts: you're showing the pain and how it's challenging yourself! I absolutely love it. All the other workout videos I came across always looked 'picture perfect' and made me feel bad. But when I'm doing your workouts I'm feeling great and motivated."
Tanja
"Hey lovely! First of all I wanted to say thank you for providing such amazing workout content for free. Usually I'm not a fan of YT workout videos, but you got me into it! I think the low impact workout is one is the most popular ones on your channel as it is 'no jumping'. At least for me that was the reason why I was hooked as I have some problems with my knees and of course neighbours. Have a lovely day hun!"
Lauren
"I so can't wait for your next workout! I'm obsessed with your workout videos on YouTube. Thanks for all your work and dedication – keep it up! Fun fact: I've never would have thought that I'm able to finish your workouts – but I'm getting better and stronger everyday. Thanks so much!"
Katie
"Hey there! I just did the 30min kettle bell & the 30min warrior workout for the first time ever. I have to admit that I'm obsessed now! The warrior workout is absolutely amazing! Thanks for all the work you're putting into your videos and your channel overall. I can't tell you how much this pushes me! #everydaywarrior "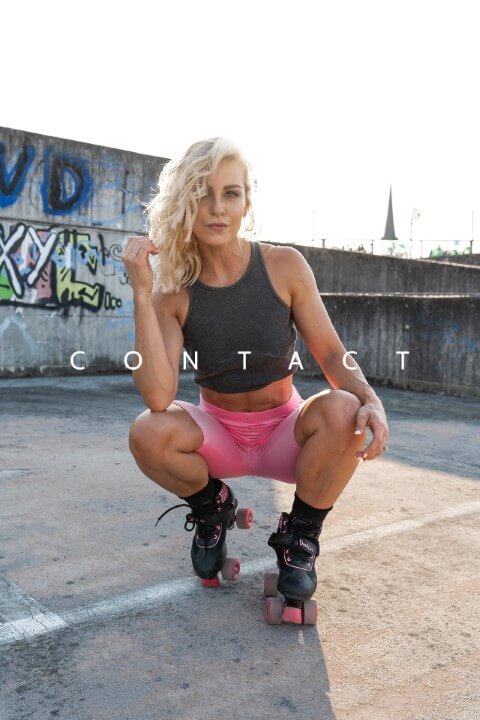 Liebes Team #everydaywarrior,
viele von euch haben sich gewünscht den monatlichen YouTube Workout Plan als PDF herunterladen zu können. Gerne könnte ihr das hier nun machen.
Hört auf euren Körper, solltet ihr mehr Pausentage benötigen, könnte ihr das natürlich eigenständig umsetzen.
Powervolle Grüße,
Eure KayKay